Nylon coated wire for graphic arts industry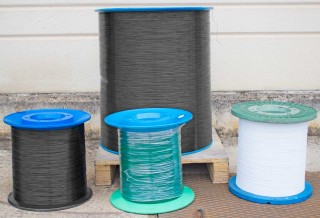 Nylon coated wire for continuous spiral or wire-o binding.
This wire is used for binding books, notebooks and calendars using both spiral and wire-o binding methods.
Coat: Nylon and tin coat. The standard colors are white or black, but they are available in a wide variety of colors upon request.
Sold in 500Kg and 800Kg spools
Wire for brushes and other applications. Galvanized and PET cover wire.
Finishes: Matte, Metalobind, lacquered and metallic in multiple colors.
Applications: Decoration, ornaments, etc.

FB-500
Conical taper spools, packed on a pallet

FB-800
Conical taper spools, packed on a pallet

Spool diameter – D1

570 m/m

800

Core diameter – D2

305

450

Inside diameter

-

-

Height – L2/L1

400/635

315/635

Average weight capacity (Kg)

425

750 m/m